Marketing
"Improve Profitability Through Higher Earnings"
To alleviate the forest owner's long-term sales risks, TIMBERLANDS understands the importance of proactively managing wood flow. Current operations being managed include:
Domestic sales of 2.8 million tonnes of logs, chips and residues per annum
Export sales planning of 1.2 million tonnes of logs per annum
Boosting Sales Returns
TIMBERLANDS maintains a degree of fixed allocation to both domestic and export markets and an element of volume which is "floating" in the allocation. The floating element is used to respond to fluctuations in either market and is redirected on an as required basis. All sales are actively managed to maximise returns for the forest owner.

Our Sales Team is constantly reviewing customer needs, competitors, long-term supply and demand projections, as well as national and international market trends. Armed with this information, decisions are made to proactively adjust cut levels up or down to suit what is inherently right for your forest, together with anticipated market demands. By using the projected harvest profile to identify future volume and grade mix expectations from the forest estate, long-term sales solutions can be tailored, areas to increase volume can be identified and strategies to deliver these solutions can be put in place.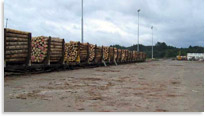 Domestic Sales
TIMBERLANDS's Domestic Sales Team plans and executes the sale of 2.8 million tonnes of logs, chips and residues to New Zealand processors per year of delivered log sales as follows:
Long term supply agreements
Fixed term sales
Tendered sales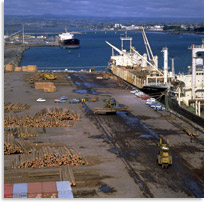 Export Sales Planning
TIMBERLANDS manages the supply chain of export products through to the port, including road and rail transport, in-forest log yards and port storage. Our sound relationships with the port authorities in gaining on-site storage space reduces any negative impact on the supply chain. Export sales as well as marshalling, stevedoring and inventory management are managed through selling agents, Pacific Forest Products Ltd (PFP) www.pfpltd.co.nz . TIMBERLANDS works closely with export agents to ensure that the best returns are obtained for the forest owner, and we have experience with changing agents to improve these returns if necessary. Current destinations for products include China, Korea, Japan, Taiwan, the Philippines, India, the Middle East and other Pacific Rim markets.