Employment
"People make our Business"
Job Vacancies
The following positions are currently available at TIMBERLANDS Limited:
There are currently no positions available at TIMBERLANDS Limited
To apply for any position at TIMBERLANDS Limited, please submit your Curriculum Vitae together with a duly completed

TIMBERLANDS Application Form by email or post, by the closing date, to:
The HR Team
TIMBERLANDS Limited
P O Box 1284
Rotorua
New Zealand
Email: hr.timberlands@tll.co.nz
---
Come and Join the Team at TIMBERLANDS
We are focused on developing our business further and are currently experiencing significant growth. As a result we have employment opportunities in the following areas:
University/polytechnic graduates with a forestry focus
Experienced foresters
Technical foresters
Financial & administrative staff
Plant operators & supervisors
If you wish to register your interest in any of the above-mentioned employment areas please click here.
---
Forestry Student Scholarships
Kaingaroa Timberlands Kaitiaki o te Ngahere Scholarship:
On behalf of Kaingaroa Timberlands we offer the Kaitiaki o te Ngahere scholarship. This scholarship is offered to students undertaking a course of study in a forestry discipline. Priority is given to students with a connection to the land on which Kaingaroa Timberlands holds forestry licences and who have resided in the central North Island. The scholarship covers the total cost of tuition fees for a period not exceeding four years. In addition to the scholarship, TIMBERLANDS' also offers work experience during semester breaks.
If you wish to apply for a Kaitiaki o te Ngahere scholarship please refer to the following regulations and, subject to eligibility, complete the following application form. Scholarship applications are invited through to 31 March in the year of application.

KT Kaitiaki o te Ngahere Scholarship Application Form


KT Kaitiaki o te Ngahere Scholarship Regulation Sheet
KT Kaitiaki o te Ngahere 2009 Scholarship Recipient Profile:
"Growing up in a rural area just south of Rotorua and attending Rotorua Boys' High school, it was almost inevitable that I would study in one of the practical industries. After guidance from a family friend and graduate of the school of forestry, my mind was set on forestry, and Canterbury was the logical decision. Shortly after I started at Canterbury I became aware of the KT Kaitiaki o te Ngahere scholarship and took the opportunity to apply, as it was simply too good to ignore. In the year since being awarded the scholarship the benefits have already been immense. I spent almost three months during the summer break working for Timberlands, which I not only enjoyed (working with the great and helpful characters that are the Tree Crop Team), but it was also a fantastic opportunity to gain some practical field work, knowledge, and experience, which will put me in great stead for the remaining three years of my degree. Also, the tremendous financial benefits cannot be ignored; both the work which provides income, and the payment of my course fees, which takes away a lot of the pressure of my student loan, a daunting figure to pay back. The KT scholarship is a truly priceless award which I am very grateful for receiving". - Theo Henderson, March 2014
Forestry Student Work Experience
TIMBERLANDS is able to offer limited placements for students to undertake paid employment over the summer break to complete the practical work experience requirements of your course of study, including if applicable, completing a dissertation. Priority will be given to Kaitiaki o te Ngahere scholarship recipients. If you wish to register your interest in work experience please click here.
Graduate Positions
In the final year of study, prior to graduating, students have the opportunity to apply for a graduate position with TIMBERLANDS. These positions are offered annually with an expected start date of January to February of the coming year. Graduate positions are of a two-year fixed term duration, during which time, graduates are rotated throughout the business to build practical skills and knowledge across all forest management disciplines. Towards the end of the programme, graduates have the opportunity to apply for any permanent positions that become available within the company. If you wish to register your interest in a graduate position please click here.
Graduate Student Profiles:
"The graduate programme is a great opportunity to experience different forest management roles within a single company, all the while developing relationships with key staff members to allow for a smooth and productive transition into full time employment. The programme allowed me to develop a wide range of skills in different roles and let me decide what aspects of forest management appealed to me the most and allow me to choose a career path that would incorporate what work I enjoyed doing and projects that interested me." - Robbie Ramlose, March 2014
"As a graduate at Timberlands, I gained invaluable forest management experience by working in a variety of roles, from planting QC through to harvest crew supervision. Being placed in different departments of the company gave me a good understandng of how a large forest management company operates, and enabled me to build relationships with fellow employees and contractors associated with each team. The experience helped me to determine the aspects of forestry that I like most, and I now have an enjoyable permanent position in the company." - Brayden Flannery, September 2013.
---
Benefits Offered at TIMBERLANDS
People make our business at TIMBERLANDS and therefore we seek to offer an employment package that retains good staff and provides both direct and indirect benefits such as:
Your Training Doesn't Stop Here
As an integral part of the way we do business at TIMBERLANDS, further training and professional development is encouraged to optimise performance and enhance personal development. TIMBERLANDS will consider subsidising membership costs for related industry associations, such as New Zealand Institution of Forestry (NZIF), and will support staff attendance at related annual conferences. Staff are encouraged to build experience in all aspects of the business, which in turn creates opportunities for career progression.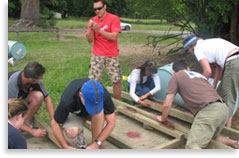 Wellbeing and Security is at Hand
TIMBERLANDS provides health benefits (to employees and their immediate families) and insurance cover (to employees only) and offers annual health checks to ensure a good level of health is maintained. All staff are encouraged to keep fit and healthy and to support this company sponsorship of entries into local sporting events has been provided where appropriate.
Work/Life Balance is Important Too
We understand the importance of personal family life and we are committed to providing a flexible working environment to meet both personal and business needs. TIMBERLANDS recognises the benefits of being able to retain skilled staff and therefore supports employees, who wish to take parental leave. To enable the transition back to work TIMBERLANDS will consider flexible working arrangements. A large number of our staff, who have young families, have established a strong social network, therefore social events involving families are a part of the TIMBERLANDS' culture.
We Have a Friendly and Sociable Team
Due to the social nature of the TIMBERLANDS's team we have weekly morning teas, regular company functions and operate a company social club for frequent get-togethers. TIMBERLANDS also supports activities and team events that promote the health and well being of staff and reflect positively on the company's image in the community.
Live and Work in One Central Location
With the completion of our new offices within the stunning environment of the Te Papa Tipu Innovation Park in Rotorua all staff can be housed under one roof in a very modern and team-focused environment. Staff can live and work in the Rotorua district without having to travel away and this stability ensures role changing and career development can occur with ease.
Health & Safety
TIMBERLANDS has a strong focus on promoting and maintaining the health and well being of all staff and contractors. We have a very active group of H&S reps and a regular H&S newsletter is produced from our Forest Risk Team to keep everyone up to date. Please also refer to the health and safety section of the Forest Risk Services Section of this site.