Harvesting
"Precise Planning & Co-ordination = Enhanced Profitability"
In order to get it right our team believes in applying the 80:20 rule to harvest planning. Eighty percent is spent on planning pre-harvest to ensure harvesting operations and optimum sales objectives can be met. Current operations successfully being managed include:
Harvesting operations of over 6,000 ha per annum.

Harvesting 4 million tonnes of Radiata Pine and Douglas fir per annum (NZ).

Processing of 1.5 million Radiata Pine stems per annum.
Maximising Forest Harvest
TIMBERLANDS manage the forest owner's estate on a supply-driven plan rather than a demand-driven plan. This provides the high stumpage result required by the forest owner. A demand-driven plan usually results in constant and expensive crew moves and scattered stock, which degrades. With a current 6,000 ha per annum harvesting regime, a very broad scope of management experience in forestry supply chain planning and harvest implementation for very large-scale forest owner in New Zealand, TIMBERLANDS's Harvesting & Marketing Team ensure optimum value is achieved from the forest estate. Constant monitoring and reporting of performance is carried out to ensure your harvesting plan objectives are met.
TIMBERLANDS's sound relationships with contractors, regulatory authorities (for obtaining resource consents etc) and experience in Iwi and neighbour consultation, ensure harvesting can be carried out within regulatory requirements.

Harvest Planning
TIMBERLANDS believes that careful and concise pre-harvest planning is critical to reaching the best-value harvesting option possible and to obtain maximum stumpage value. To achieve this, pre-harvest quantity and quality inventory data, provided by our Technical Team, is incorporated into a harvest plan. TIMBERLANDS uses LiDAR and the latest industry recommended models including the CYANZ harvest planning tool. This harvest plan becomes the blueprint, which our Operations Team will follow on commencement of harvest operations.
Harvest Scheduling
To maximise harvest value, rolling 12-18 month harvest schedules are developed to form the basis of our centralised supply chain planning. This schedule is used to coordinate pre-harvest road engineering, harvesting, sales and distribution functions into an efficient and optimal operational plan. It is critical to maximise value through actual sales. To achieve this, sales allocations are made by understanding the full sales potential of the stand together with the needs and wants of exporters, domestic customers and general market conditions, which our team seeks through constant and direct customer communications.
Road Engineering
TIMBERLANDS has a history of minimising roading costs and ensuring road construction and maintenance is completed prior to commencement of harvest operations. In coordination with the well planned harvest schedule, road engineering operations are carried out to ensure harvesting products can be removed as efficiently as possible. For best cost results, we avoid over-engineering, identify the possibility of sourcing quarry metal within the forest estate and target experienced value-for-money operators. Our management experience in roading operations includes bridge building, sealed road maintenance, harvest access road construction, skid construction and establishment of quarries. We operate in difficult terrains, as well as with variable soil types.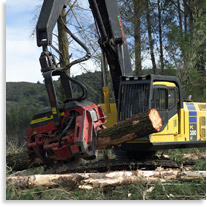 Harvest Contract Management
TIMBERLANDS has a large contractor base, which allows flexibility of harvesting different terrains, section sizes and scale. Selection of crews is based on both best price as well as service attributes, including a history of high quality standards in environmental performance, health and safety, value recovery, production control, communications and general business experience/acumen.
TIMBERLANDS's harvest management expertise includes cable hauler, ground-based logging, full stem harvest and production thinning operations. Production is controlled to the levels required by sales allocations through monitoring performance against the harvesting schedule. Formal performance measures are carried out on a quarterly basis to ensure that consistent performance targets are met.
Stems Processing
TIMBERLANDS manages the Kaingaroa Processing Plant (KPP) on behalf of Kaingaroa Timberlands Partnership, a sophisticated, mechanised, high volume processing plant, which provides a centralised point to process 1.5 million tonnes of stem length Radiata Pine each year into a wide range of high value forest products. Characteristics such as full stem debarking, 3D scanning, high speed grading, optimisation, anti-sapstain capability and high volume make KPP unique in the New Zealand forest industry and ensures value optimisation is achieved in a controlled and safe environment.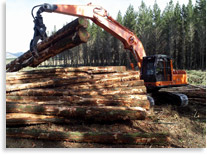 Wood Flow and Distribution Planning
TIMBERLANDS has experience in stem, log, chip and residue cartage. Our goal is to maximise on-truck returns for the forest owner and to achieve this, short term wood flow and distribution planning is carried out. Wood flow plans provide cut plans to crews that will best meet the forest owner's sales plan objectives and ensure products reach markets in specification (timing, grade, quality and customer orders).
Performance Reporting
TIMBERLANDS has performance reporting technology and continually updates and monitors performance of the supply chain including reporting DIFOT, production by crew, production by grade, log inventory levels, average on-truck pricing by stand, log value recovery, health and safety performance, environmental performance and documentation accuracy.